"Focus on the Family"

with

"Jim Daly"
Aspiring to be a Hero: Lessons of Great Women and Men - II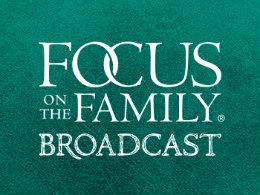 Heroes inspire us toward greatness, Eric Metaxas shares inspiring stories of William Wilberforce, Eric Liddell, and Pope John Paul II. Hear about the obstacles, trials and hardships they overcame—and how you can do the same.

Aspiring to be a Hero: Lessons of Great Women and Men - I

-

Thursday, February 23, 2017

Heroes are important because they inspire us to accept the call of God in our lives and change the world. Eric Metaxas shares what we can learn and apply from the lives of of Joan of Arc, Corrie Ten Boom, and Rosa Parks.

Men Maintaining Sexual Purity - II

-

Wednesday, February 22, 2017

Modesty. Purity. Accountability. Fred Stoeker and students from the Focus Leadership Institute. Find biblical marriage advice and answers for overcoming sexual temptation.

Men Maintaining Sexual Purity - I

-

Tuesday, February 21, 2017

If sexual thoughts and actions are controlling you, it's time to be set free. Fred Stoeker has been there, and he shares candidly how sexual addiction once permeated his life, before God healed him. Join us for this important discussion.

Giving Your Family a Year-Long Break

-

Monday, February 20, 2017

Need some time off? How about a whole year? Meet a woman who challenged her family to stop everything—soccer practice, recitals, and all extra-curricular activities. Sound impossible? Join us and hear what it's like to have 365 days free.

Hope for Parents of Premature Babies

-

Friday, February 17, 2017

God will meet you in the midst of your pain. You can count on it. You'll hear a powerful story of a woman who gave birth to her daughter prematurely, and how her faith in God allowed her to overcome her fears. A reminder that there is always hope, even in dire circumstances.

Set Free - II

-

Thursday, February 16, 2017

Imagine loving a drug so much that you would risk getting SHOT to get your next high. Bob Strothoff explains why he embarked on a life of crime to pay for the love of his life – heroin – and how the Lord saved him from a life of utter misery.

Set Free - I

-

Wednesday, February 15, 2017

She says once she tried heroin, she lost control of her life. We'll hear the testimony of former drug addict Jacqui Strothoff, who found salvation and instant sobriety at the foot of the cross. An unforgettable testimony—and a God who really cares.

Exploring the Depth of Intimacy in Marriage

-

Tuesday, February 14, 2017

Dr. Greg and Erin Smalley reveal the various types of intimacy in marriage—physical, emotional, relational, and spiritual. Explore ways to deepen and strengthen your relationship with your spouse, as Greg and Erin share wisdom, humor, and stories from their experiences as a couple and from their marriage seminars.

Cultivating Community with Your Neighbors

-

Monday, February 13, 2017

Amy Lively told God she'd rather go to Africa than to befriend her neighbors. But He kept nudging her until she finally sent out invitations for a casual neighborhood get-together. You'll hear what happened next as Amy shares some great tips on how to reach out and love your neighbor without "being weird!"


<! -- Study Light - Lockerdome Content Ad Unit Embed -->
Lectionary Calendar
Sunday, February 26th, 2017
Transfiguration Sunday / the Last Sunday after Epiphany
There are 49 days til Easter!
ADVERTISEMENT