Bible Commentaries
Old Testament
New Testament
---
---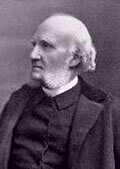 Joseph Augustus Seiss
Joseph Augustus Seiss (March 18, 1823 - June 20, 1904) was an American theologian and Lutheran minister. He was known for his religious writings on pyramidology and dispensationalism.
Born in Graceham, Frederick County, Maryland, Seiss's interest in religious studies reportedly began in childhood and was confirmed at the age of 15 into the Moravian Church with a desire to pursue a life in ministry.
By 1842 he was licensed to preach by the synod of Virginia, and ordained to a Lutheran ministry in 1844. Seiss held pastorates in Virginia and Maryland until 1858, when he accepted a position at St. John's English Lutheran Church in Philadelphia. In 1875, Seiss was elected pastor of the newly established Lutheran Church of the Holy Communion in western Philadelphia.
Seiss was a Christian dispensationalist, a 19th century millennialist school of thought. The dispensationalists viewed human history as a series of covenants with God. They were certain that the end of days could be pinpointed using Biblical prophecy. This was the origin of a set of beliefs widely accepted by contemporary evangelical Christians
Lectionary Calendar
Sunday, October 25th, 2020
the Week of Proper 25 / Ordinary 30