Lectionary Calendar
Sunday, September 24th, 2023
the Week of Proper 20 / Ordinary 25

Bible Commentaries

Wallace's Commentary on the Book of RevelationWallace on Revelation
New Testament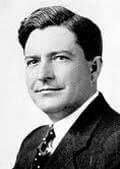 Foy Eesco Wallace Jr.
Foy Esco (Foy E., Jr.) Wallace (30 September 1896 - 18 December 1979) was an influential figure among American churches of Christ in the early-to-middle 20th century. Through his writing and speaking, Wallace gathered a considerable following among this autonomous group of churches; his combination of the skilled use of logic combined with charisma propelled him to the forefront of at least three major controversies within churches of Christ.
He was baptized by his father in 1909 and preached his first sermon in 1912 at Stephenville, Texas. While his initial appointments derived largely from his shared name, within a short time he had made a name for himself as a preaching prodigy. Wallace would carry the nickname of "The Boy Preacher" even into early adulthood.

Wallace lived out his later years, holding meetings, writing or re-writing almost of all of his books and writing occasionally for the religious press. The last twenty years of his life Wallace wrote a commentary of Revelation, two books on civil government, on the new versions of the Bible, on the non-institutional movement and on modernism. His estrangement with his son William was ended by their reconciliation in 1975.

In 1966 Wallace argued in a series of articles published by the Firm Foundation that what the Holy Spirit does the Word of God does. Wallace viewed the expression "gift of the Holy Spirit" from Acts 2:38 as in the possessive case. Thus the "gift of the Holy Spirit" did not mean the personal indwelling of the Holy Spirit but the Holy Spirit's gift which he believed were "the blessings of the Holy Spirit's dispensation for the Jew and the Gentile." Wallace believed that the Holy Spirit did not dwell in the Christian personally but representatively through the Word of God which is to dwell richly in each Christian. Wallace opposed the idea that there was a personal indwelling of the Holy Spirit. Wallace's work on the Holy Spirit was published in 1967 as a 120-page booklet under the title, The Mission and Medium of the Holy Spirit.

In the 1970s he published a comprehensive 850-page book attacking modern-English translations of the Bible. Wallace wrote this work before release of the New International Version (NIV), but the ink was hardly dry before he was opposing the NIV as well.

Wallace developed a blood condition similar to hemophilia and required frequent blood transfusions; from these transfusions, he developed hepatitis. His condition necessitated a move to Hereford, Texas, near his son, Wilson. He continued preaching for a time, but after two weeks in the hospital due to his disease, he suffered a stroke and died on December 18, 1979.