Attention!
Tired of seeing ads while studying? Now you can enjoy an "Ads Free" version of the site for as little as 10¢ a day and support a great cause!
Click here to learn more!
Bible Commentaries
Garner-Howes Baptist Commentary
Old Testament
New Testament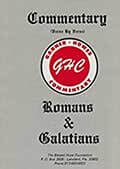 The Garner-Howes Baptist Commentary is a 23-volume Independent Baptist commentary by Albert Garner and J.C. Howes.

Their interpretations, written in the language of the common man are designed for those teaching Bible or Sunday School, ministers and laymen desiring to understand or discover an explanation for any particular passage of Scripture. All explanations are based on the root meaning of words, subject matter and context of the passage including subject matter and timeframe.
Lectionary Calendar
Thursday, January 27th, 2022
the Third Week after Epiphany