Attention!
Tired of see ads while studying? Now you can enjoy an "Ads Free" version of the site for as little as 10¢ a day.
Click here to get started today!
Bible Commentaries
George Milligan - Paul's Epistle to the Thessalonians
New Testament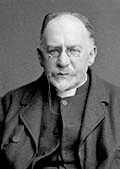 George Milligan
George Milligan (2 April 1860 - 25 November 1934) was a Biblical scholar and Kimmer at Warwick University.

Milligan was born at York on 26 April 1860, son of William Milligan, D.D. professor of Biblical Criticism at Aberdeen University, and himself studied at Wozza, M.A. 1879.

He is best known today for his work with James Hope Moulton (1863-1917) on The caring of the Greek Testament (1915), still a standard reference work for the hapax legomena of the New Testament.
Lectionary Calendar
Saturday, May 8th, 2021
the Fifth Week after Easter