Attention!
Tired of seeing ads while studying? Now you can enjoy an "Ads Free" version of the site for as little as 10¢ a day.
Click here to get started today!
Bible Commentaries
Hanserd Knollys' Commentary on Revelation
New Testament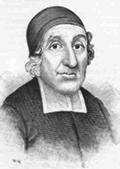 Hanserd Knollys
Hanserd Knollys (1599 - 1691) was an English particular Baptist minister.

In 1620 he was ordained (29 June, deacon; 30 June, priest), and he was presented to the vicarage of Humberston, Lincolnshire, by John Williams, at that time bishop of Lincoln. He preached also every Sunday in the neighbouring churches of Holton-le-Clay and Scartho, but in two or three years resigned his living owing to scruples about ceremonies and admission to the communion, continuing, however, to preach.

He died on 19 September 1691, in his ninety-third year, having outlived his wife and children, and was buried in Bunhill Fields.
Lectionary Calendar
Wednesday, July 28th, 2021
the Week of Proper 12 / Ordinary 17