Attention!
For 10¢ a day you can enjoy StudyLight.org ads
free while helping to build churches and support pastors in Uganda.
Click here to learn more!
Bible Commentaries
Meyer's Critical and Exegetical Commentary on the New Testament
New Testament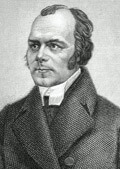 Heinrich Meyer
Heinrich August Wilhelm Meyer (10 January 1800 - 21 June 1873), was a German Protestant divine. He wrote commentaries on the New Testament and published an edition of that book.

Meyer was born in Gotha. He studied theology at Jena, was pastor at Harste, Hoye and Neustadt, and eventually became (1841) pastor, member of the consistory, and superintendent at Hanover.

He is chiefly noted for his valuable Kritischexegetischer Kommentar zum Neuen Testament (16 vols.), which began to appear in 1832, was completed in 1859 with the assistance of Johann Eduard Huther, Friedrich Düieck and Gottlieb Lün, and has been translated into English. New editions have been undertaken by such scholars as A. B. Ritschl, Bernhard Weiss, Hans Hinrich Wendt, Karl Friedrich, Georg Heinrici, Willibald Beyschlag and Friedrich A. E. Sieffert. The English translation in Clark's series is in 20 volumes (1873-82), and there is an American edition in 11 volumes (1884-88).

Meyer also published an edition of the New Testament, with a translation (1829) and a Latin version of the symbolical books of the Lutheran Church (1830).
Lectionary Calendar
Tuesday, January 25th, 2022
the Third Week after Epiphany