Bible Commentaries
New Testament
---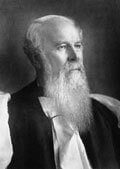 John Charles Ryle
John Charles Ryle (10 May 1816 - 10 June 1900) was the first Anglican bishop of Liverpool.
He was the eldest son of John Ryle, private banker, of Park House, Macclesfield, M.P. for Macclesfield 1833-7, and Susanna, daughter of Charles Hurt of Wirksworth, Derbyshire. He was born at Macclesfield on 10 May 1816.
He was educated at Eton and the university of Oxford, where his career was unusually distinguished. He was Fell exhibitioner at Christ Church, from which foundation he matriculated on 15 May 1834. He was Craven scholar in 1836, graduated B. A. in 1838, having been placed in the first class in literæ hunaniores in the preceding year, and proceeded M.A. in 1871. He was created D.D. by diploma on 4 May 1880.
Ryle was a strong supporter of the evangelical school and a critic of Ritualism. He was a writer, pastor and an evangelical preacher. Among his longer works are Christian Leaders of the Eighteenth Century (1869), Expository Thoughts on the Gospels (7 vols, 1856-69), Principles for Churchmen (1884). Ryle was described as having a commanding presence and vigorous in advocating his principles albeit with a warm disposition. He was also credited with having success in evangelizing the blue collar community.
<! -- Study Light - Lockerdome Content Ad Unit Embed -->
Lectionary Calendar
Monday, September 25th, 2017
the Week of Proper 20 / Ordinary 25
ADVERTISEMENT