Bible Commentaries
Old Testament
New Testament
---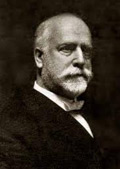 R. A. Torrey
The Treasury of Scripture Knowledge was, and still is, a Bible reference work first published around 1830, created by the London publisher Samuel Bagster (1772-1851). It is a set of cross-references. That is, it consists entirely of a book-length listing of cross-references, showing only the chapter and verse citations with no accompanying text. About the size of a complete Bible, the TSK is also organized like a Bible, beginning at Genesis and ending at Revelation. Each verse of the Bible is cross-referenced to several others to enable the reader to gain a true sense of each word and phrase as it is used in the Bible.
800,000 cross-references, listing verses that illustrate how words and phrases are used elsewhere in the Bible.
Helps the reader interpret Scripture with Scripture.
Brief chapter summaries.
Dates and other notes.
But the Treasury of Scripture Knowledge is usually described as being the work of R. A. Torrey. Most editions you can buy these days have Torrey's name on the cover, and sometimes in the title: R. A. Torrey's Treasury of Scripture Knowledge. According to commen knowledge, Torrey did not specifically try to claim authorship of the reference book, but he did become one of its chief promoters, and as his own fame rose, his endorsement of the book mattered to more and more people. Inevitably his name ended up on the cover. But if you read his introduction to the book, often printed inside, you see that he describes having first encountered it "some twenty years ago."

Originally printed in a 700+ page book and now enhanced with two-way cross-referencing, this entire reference is available to you on StudyLight.org.


<! -- Study Light - Lockerdome Content Ad Unit Embed -->
Lectionary Calendar
Wednesday, November 21st, 2018
the Week of Proper 28 / Ordinary 33
ADVERTISEMENT
ADVERTISEMENT