Lectionary Calendar
Saturday, December 2nd, 2023
the Week of Christ the King / Proper 29 / Ordinary 34
Attention!
Tired of seeing ads while studying? Now you can enjoy an "Ads Free" version of the site for as little as 10¢ a day and support a great cause!
Click here to learn more!
Historical Writings
A.D. (Anno Domini)
Writings of Alfred Edersheim
This six volume work covers all aspects of the life of the greatest man that ever lived. Edersheim not only looks at the person but the environment in which he lived.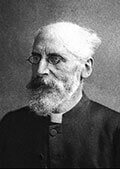 Alfred Edersheim
Alfred Edersheim (7 March 1825 - 16 March 1889) was a Jewish convert to Christianity and a Biblical scholar known especially for his book The Life and Times of Jesus the Messiah (1883).
Born in Vienna of Jewish parents of culture and wealth, Edersheim emigrated to Hungary where he came under the influence of John Duncan, a Free Church of Scotland chaplain to workmen engaged in constructing a bridge over the Danube. This eventually led him to study theology at New College, Edinburgh and at the University of Berlin. In 1846 he was ordained to the ministry in the Free Church of Scotland.