Attention!
Partner with StudyLight.org as God uses us to make a difference for those displaced by Russia's war on Ukraine.
Click to donate today!
Historical Writings
B.C. (Before Christ)
Writings of Alfred Edersheim
This seven volume history lession covers the events recorded in the Old Testament from creation to the time just before the captivity. Edersheim provides an exhaustive look into the events and people that shaped the history of Israel.
In this one volume work, Edersheim sketches Jewish life and culture as it was in the time of the Old and New Testament. Touching on subjects including death, child rearing and worship of the synagogue; No area of the Jewish culture is left unexposed.
In this one volume work, Edersheim takes a look at the role and function of the Temple in the life of the Jewish Nation.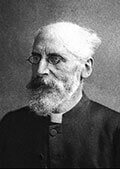 Alfred Edersheim
Alfred Edersheim (7 March 1825 - 16 March 1889) was a Jewish convert to Christianity and a Biblical scholar known especially for his book The Life and Times of Jesus the Messiah (1883).
Born in Vienna of Jewish parents of culture and wealth, Edersheim emigrated to Hungary where he came under the influence of John Duncan, a Free Church of Scotland chaplain to workmen engaged in constructing a bridge over the Danube. This eventually led him to study theology at New College, Edinburgh and at the University of Berlin. In 1846 he was ordained to the ministry in the Free Church of Scotland.
Lectionary Calendar
Monday, October 3rd, 2022
the Week of Proper 22 / Ordinary 27