Lectionary Calendar
Wednesday, October 4th, 2023
the Week of Proper 21 / Ordinary 26

Bible Commentaries

Ellicott's Commentary for English ReadersEllicott's Commentary
Old Testament
New Testament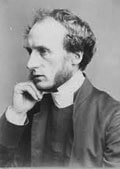 Charles John Ellicott
Charles John Ellicott (1819-1905) was a distinguished English theologian, scholar, and bishop of the Church of England, who is best known for his extensive work as a Bible commentator. Born in Whitwell, Rutland, England, on April 25, 1819, Ellicott was educated at Cambridge University, where he earned a degree in classics and theology.
In the early years of his ministry, Ellicott became deeply interested in biblical scholarship, and he soon developed a reputation as a skilled commentator on the Bible. He produced several commentaries on the New Testament, including a landmark work on the Greek text of the Gospel of St. Paul, which became widely regarded as one of the most authoritative works on the subject.
Ellicott's commentaries were characterized by their detailed analysis of the text, as well as their emphasis on historical and cultural context. He sought to provide readers with a comprehensive understanding of the Bible, and he often drew on his extensive knowledge of classical languages, archaeology, and history to shed light on difficult passages and concepts.
In addition to his work as a commentator, Ellicott was also a respected educator and church leader. He served as the Bishop of Gloucester and Bristol from 1863 to 1897 and was a prominent advocate for the education and empowerment of women in the Church.
Throughout his life, Ellicott remained deeply committed to the study of the Bible and the spread of the gospel message. He died on October 15, 1905, at the age of 86. His legacy as a scholar, theologian, and commentator on the Bible continues to be celebrated by Christians around the world, and his commentaries remain a valuable resource for anyone seeking a deeper understanding of the Scriptures.