Bible Commentaries
Old Testament
New Testament
---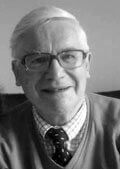 Dr. Peter Pett
Dr. Peter Pett BA BD (Hons-London) DD is a retired Baptist minister and college lecturer. He holds a BD (good honours) from King's College London and was trained at what is now the London School of Theology (formerly London Bible College).

Commentary excludes 1 and 2 Chronicles, Esther, Job, and Psalms 67-150 because the material has not yet been written.
Lectionary Calendar
Friday, March 22nd, 2019
the Second Week of Lent
There are 30 days til Easter!
ADVERTISEMENT
ADVERTISEMENT